WE'RE GIVING THE LITTLE THINGS THAT MEAN EVERYTHING AT THE DOUBLETREE BY HILTON SYRACUSE CARRIER CIRCLE 11A-1PM
MAY 18TH AND YOU'RE INVITED!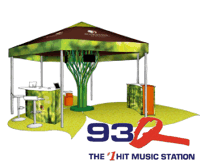 As you know, at DoubleTree by Hilton, we believe the little things mean everything when it comes to a great travel experience. That's why this year we created the DoubleTree by Hilton Little Things Project, helping us share our vision of making the travel experience more rewarding for people everywhere.
Complimentary Hot Dogs, Chips, Beverages, and the sweet treat of one of our legendary chocolate chip cookies – our brand's legendary icon will be given away. You will also receive one of the "little things" giveaways that travelers already have told us would make their travel day brighter and more rewarding through Tell Me Tree interactions.

Learn about the "little things" that make Syracuse great with recommendations from ambassadors representing the DoubleTree by Hilton Syracuse; discounts for overnights and future events will be provided. The #1 Hit Music Station 93Q Boom Box will provide the music.At every location of the Tell Me Tree Traveling Tour, it's an opportunity for DoubleTree by Hilton teams to engage travelers and make their travel experience more rewarding. Join us!